YouTube updates mobile web site for browsers that support HTML-5
4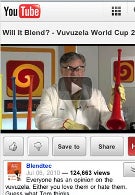 When the original iPhone made watching YouTube videos on your phone something that was fun, most cellphone buyers started to demand the same thing on the new models they were buying. While some manufacturers were quick to join Apple, like HTC with the TouchPro and the Diamond, others were slow to add a separate client for YouTube videos. Because handsets lacked flash at the time, and others did not add a YouTube app, the video site developed a mobile version that could stream videos to feature phones and smartphones alike. From the early days when only a few select videos were streamed on the mobile site, the inventory of videos kept expanding and soon the mobile site offered the same videos as the iPhone and HTC app did. Eventually, other manufacturers realized that their customers wanted an application to watch YouTube and most manufacturers obliged.
The Google owned site has updated the service for HTML-5 capable browsers like Safari and Android browsers. Even though both the iPhone and Android phones do have their own apps for the service, the mobile site is said to have a cleaner and better interface and give better performance. YouTube product manager Andrey Doronichev writes, "[The update] incorporates the features and functionality you've come to expect from the .com site, like search query suggestions, the options to create playlists, the ability to designate 'favorite,' 'like' or 'unlike' videos directly from your device," The mobile site gets 100 million requests for videos a day, the same number that the desktop site was sending out in 2006 before it was acquired by Google. He also notes that the client on the Apple iPhone is optimized for
EDGE
, not 3G like the mobile site is. This is why YouTube videos look great while playing on the iPhone's Wi-Fi radio, but not while using 3G. Android models above 2.0 have a High-Defintion option that makes most YouTube videos as clear as if watching on Wi-Fi.
source:
YouTube