You can now order a Domino's pizza with just one tap on your Apple Watch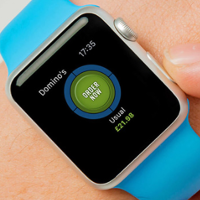 If you're dying for a pizza, you can now order one from Domino's with just one tap on your wrist. To be more precise, ordering the pie requires a tap on the
Apple Watch
or Pebble smartwatch that is worn on your wrist. To set this up, you need to go to Domino's official website and select your favorite pies. This information becomes available to the Domino's app.
Once you open the app, you can use the "Easy Order" feature that allows you to place your order with a single tap on your Apple Watch or Pebble smartwatch screen. After you order the pie, you can actually track its progress, including the moment that it is placed into the oven. There are five different stages to monitor, including the moment that your delectable pie is placed into the delivery van that will be driven to your location. If you plan on picking it up instead, you will be told when the pizza is waiting for you at the store. One small caveat; the Easy Order feature is not yet available in all parts of the world. It is available throughout the U.S., however.
If you absolutely detest ordering a pizza by phone, you should go now to the Domino's Pizza website and set up your account. This way, you'll be all ready to order from the Domino's Pizza app on your Apple Watch or Pebble smartwatch the next time your stomach growls.
source: Domino'sPizza (
iTunes
|
Android
) via
RedmondPie