Yet another problem with HTC 7 Trophy reported, HTC planning to issue a recall?
19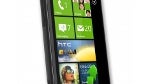 When you think that it can't get any worse for the
HTC 7 Trophy
, it actually does. Yesterday, we reported on the peculiar problem that two different handsets with the
HTC 7 Trophy brand on them have vastly different displays
. To make things even worse for both HTC and Windows Phone 7, the latest news on the troublesome device is that it has another screen defect.
According to no less than nine XDA developers, there are streaks on the HTC 7 Trophy's screen that look very much like bubbles between the different layers of the Super LCD. All attempts to fix the problem have proved to be in vain.
But that's not all. The original user who leaked the problem went to the store where he bought the device and along with the manager inspected a new batch of phones, only to find that it's not a one-off device and there are other HTC 7 Trophy handsets with the very same problem. Reportedly, the manager said that HTC are aware of the problem and would be "issuing a recall".
It seems very likely that there is no future for the HTC 7 Trophy, at least for the time being, but the interesting part is how Windows Phone 7 and indeed HTC would pick themselves from here. This is no doubt a setback for Microsoft's new OS and a stain on HTC's reputation of delivering great all-around phones.
Take a look at the video below to see the problem for yourself.
source:
pocketnow