Some HTC 7 Trophy handsets sporting lower quality displays than others?
1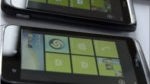 Recently, there have been some brand new HTC 7 Trophy owners over in Europe noticing something strange going on with their handsets related to their screen displays. Naturally, you'd expect two identical HTC 7 Trophy handsets out of the box performing equally, but it appears as though that some are using lower quality displays than others – either that or some have greatly deteriorated in a matter of days.
One owner specifically noticed something going on when he looked at a colleague's new handset from an oblique angle. Specifically, it looks as though that the color production at the same viewing angles differ greatly between both handsets. After double checking and setting the display, color options, and brightness to the same levels for both handsets, the same noticeable differences can be seen between the two. It's hard to say if it's an entirely different display being used with both handsets, but there is no arguing that there is a drastic difference between quality.
The handset owner with the lower quality display has been referred to HTC Repairs, but it's hard to say whether or not it might prove to be enough in being considered to be some kind of defect. Is anyone else experiencing the same thing?
source:
Tweakers
via
WMPoweruser
Recommended Stories