Years before the BlackBerry Priv, the Motorola DROID PRO brought Android to the enterprise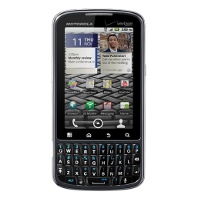 The
BlackBerry Priv
means business. The manufacturer's first Android smartphone features a slider that when open, reveals a physical QWERTY keyboard. The device comes with the DTEK app that helps users keep an eye on how secure their device is, and also keeps an eye on which apps are accessing your camera, microphone, location data and more.
BlackBerry itself points out six reasons why the Priv is an excellent phone for the enterprise. These reasons include the physical QWERTY; the 3410mAh battery that provides up to 22.5-hours of mixed use on a single charge; the phone's security; the use of BlackBerry features on Android such as Hub, BlackBerry Calendar, BBM and default encryption; the form factor, and the way security updates bypass carriers and are sent each month directly to the phone.
While the BlackBerry Priv might be the latest Android phone made with business in mind, it certainly wasn't the first. One of the first Android phones designed for the enterprise was the
Motorola DROID PRO
, launched in late 2010. With its front-facing physical QWERTY, the DROID PRO resembled the BlackBerry handsets that were available at the time. Motorola advertised on television how the DROID PRO featured corporate email and was powered by a "powerful 1GHz processor" that was proof that the phone meant business. The commercial went on to mention how the handset offered Wi-Fi connectivity in over 200 countries. The browser was equipped with Adobe Flash, and (at the time) there were over 100,000 apps in the "Android Market." According to Motorola, the DROID PRO was a work phone worth taking home.
The Motorola DROID PRO gave businessmen (at least the ones subscribed to Verizon) the ability to see what the Android hubbub was all about. It featured a
3.1
-inch screen with a 320 x 480 resolution and 512MB of RAM. You can check out our review of the handset by
clicking here
.
BlackBerry Priv
Motorola DROID PRO