Xiaomi invests into mobile health gadgetry. Is it making an alternative to Apple's Health?
3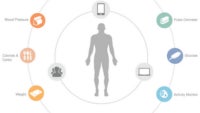 There is a new fad evolving in the mobile device industry and that is health monitoring. Brought under the spotlight by Samsung, with its S Health, and now further expanded upon by Apple's Health; not to mention that a large part of the wearables market is aimed towards fitness / wellness monitors.
Well, seems Xiaomi wants in on the fun, too. China's number 1 smartphone vendor has recently invested $25 million in iHealth Labs – maker of the so-called mHealth (mobile health) gadgets, such as blood pressure monitors, smart scales, and activity trackers. In return for the generous investment, the Mi will get a seat in iHealth's board of directors.
This is an interesting move, as iHealth Labs has been making devices that sync with iOS exclusively. Whether Xiaomi will only work towards adding Android gadgets towards iHealth's portfolio, or pull it away from iOS entirely, is yet unknown. It is speculated, however, that the Mi will try to create something similar to Apple's Health – an app that keeps track of various metrics, captured by the iPhone, the Apple Watch, and 3rd party devices. It seems that Xiaomi will not be shaking off its "the Apple of China" nickname anytime soon.
via:
IntoMobile