Xfinity Mobile loses $189 million during the first quarter despite adding 196,000 new subscribers
6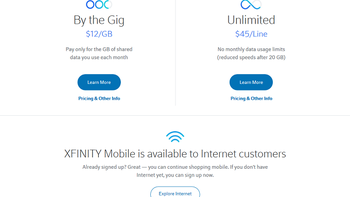 Xfinity Mobile, owned by cable giant Comcast, has reported its first quarter earnings report. During the three month period ended in March, Xfinity Mobile lost $189 million, which is a sizeable chunk of change. At the same time, the company added 196,000 new subscribers. Comcast doesn't have to spend to build out a network, and sells its wireless service and phones from Xfinity stores already selling cable and internet. This might be a clue that Comcast is pricing Xfinity Mobile as a loss leader so that the company can push cable, internet and home phone service to its mobile subscribers.
Xfinity Mobile now has 577,000 subscribers and analysts expect Comcast to lose $1.2 billion on the venture after its first 18 months. A hybrid Wi-Fi first carrier, users connect to 18 million Xfinity Wi-Fi hotspots for connectivity. Once out of range of these hotspots, customers are connected to Verizon's 4G LTE network.
Comcast customers with internet service can pay $45 a month for Xfinity Mobile and receive unlimited talk, text and data. Once 20GB of data are consumed in a month, speeds are reduced. Subscribers can also pay $12 a month for each GB of shared data that they want for one month. Any money used to pay for data not used, will be returned at the end of the month. And with the Xfinity Mobile app, users can switch from paying by the GB to unlimited service anytime they want.
"I think we're off to a really good start with mobile. But it just launched last May, and it's still early in terms of how we expand distribution. We're just now beginning to package mobile solutions with broadband."-Dave Watson, CEO, Comcast Cable
Xfinity Mobile currently has a deal on new phones. Sign up for unlimited service between now and May 23rd and you'll get $200 back on the purchase of a new phone. If interested, click on this
link
.
source:
DSLReports