X marks the spot for Motorola and Verizon
This article contains unofficial information.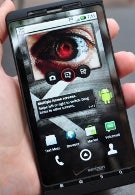 For those Verizon Wireless customers who considered splitting to Sprint for the EVO 4G, you might be glad that you stayed. The upcoming Motorola DROID X features a 4.4 inch screen with resolution of 854 x 480, topping the Sprint device by one tenth of an inch. The DROID X will come with a Blockbuster app standard and a new form of Motoblur on top of Android
2.1
. The camera is 8MP with 720p video capture. Swype comes installed on the phone out of the box. Need we add that the handset is equipped with a 1GHz processor? This is going to be an interesting showdown between the DROID X, the EVO 4G and the iPhone 4. The DROID Incredible? That looks like it will be heading for the cutout bin when this Motorola drops. As we
reported
earlier, we could see that happen on July 19th. There still is a question about which version of Android will be on the DROID X at launch. While Android 2.1 has been the favorite, the fact that Adobe will be at the product's introduction next week makes it possible that Flash 10.1-and thus Android 2.2-will come on the handset at launch.
Motorola DROID X (MB810) Preliminary Specifications
source:
Engadget