Woz thinks wearables are "a hard sell", but has a solution for the iWatch
16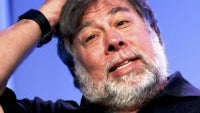 Steve Wozniak is like the spirit animal for the technology world. When he speaks, we listen, because whether we do or not, we always expect that he'll say something interesting or enlightening. This time around, Woz has some things to say about the upcoming iWatch, why he's a bit worried, and what Apple could do to get his support (although Apple has absolutely no time to actually implement his suggestions).
Overall, Woz isn't that bullish on the wearable market, saying he feels "that wearables are a hard sell" and that "they are go-betweens for your smartphone". However, Woz believes that Apple can (and is) about to release something better than that assessment, saying:
Apple works very hard to produce exceptionally great products and doesn't quickly release things like a wearable. So if one is introduced I expect it to have a chance to set the direction and make the product category finally viable.
That is a lot of faith in Apple, and it can't simply be written off as Woz being biased because he was a co-founder of the company, because he has been very critical of Apple and has been outspoken about how
Android is a superior product
in some ways right now. Woz went on to say that he personally wouldn't want a heart rate monitor in the iWatch, although he expects some "health aids" built in, and he would be happy with a loud speakerphone function. But, the number one thing that Woz wants is a larger display, so he "can do more of what [his] iPhone does."
Based on the various rumors, it is unlikely that Woz will be getting what he wants from Apple, so we'll have to keep an eye out for his reactions after the
iWatch is unveiled
, which is now expected to happen on
September 9th
along with the new iPhone.