Would you pay $1300 for a 24K gold-plated BlackBerry Priv?
48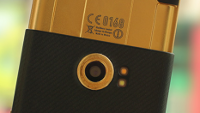 BlackBerry's first Android powered handset, the
BlackBerry Priv
, happens to be a slider which helps it conceal the physical QWERTY available to users. The device has already been launched in the U.S, Canada and in some overseas countries like the U.K. It will launch in Vietnam on December 5th, which is of importance to those who are interested in purchasing a gold-plated BlackBerry Priv.
Karalux is a Vietnamese company that has become known for offering gold-plated versions of popular smartphones. In the past, it has offered gold-plated BlackBerry models including the
BlackBerry Q10
and the
BlackBerry Passport
. If you are among those who feel that the Priv is overpriced at $700, you might not be interested in seeing how much it will cost to turn your Priv into a piece of jewelry.
After spending hours taking the Priv apart to figure out how best to gold-plate the device, Karalux has announced that for the equivalent of $350 USD, it will provide 24K gold-plating of a domestic customer's BlackBerry Priv. Since the company is located in Vietnam, that offer is only for Priv owners in that country. If you live in Vietnam but don't own the Priv, Karalux will sell you the phone and the 24K gold-plating for the equivalent of $1100 USD. If you live out of the country, the phone and the gold-plating will cost you $1300 USD.
If you don't think that the unique (at least these days) form factor of the BlackBerry Priv is enough to impress, or you happen to like the rich look of the gold-plating, you can check out the gold-plated BlackBerry Priv (and the other similarly treated phones that Karalux offers) by clicking on the sourcelink.
source:
Karalux
via
Crackberry