World's most expensive phone heading to China at $15 million, bound to raise eyebrows in the Party
42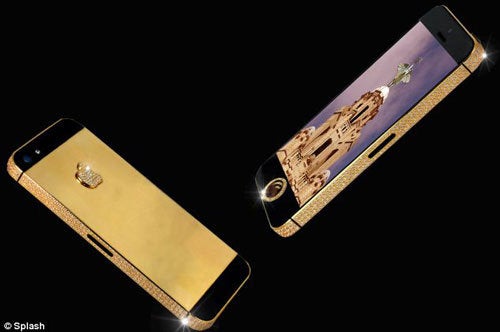 From the British designer Stuart Hughes, who gave to the world
an iPad with an embedded real T-Rex bone
, now comes the most expensive phone in the world - a ten million pound sterling (about 15 million USD)
iPhone 5
Black Diamond.
Custom-ordered by an unnamed Chinese businessman, the handset is dipped in 26 karat gold, a real black diamond has replaced the home key, and 600 "regular" diamonds have been encrusted in the chassis, 53 of which went to adorn the Apple logo itself. The screen protection has been replaced with
sapphire glass
, which is much tougher than
Gorilla Glass
, and it took the designer nine weeks to hand-make the unique phone.
That Chinese customer already owned the black diamond itself, so he's not paying list price, but if we were the Communist Party department in charge with corruption checks there, this phone extravagance would top the weekly report. Unless your name is
Terry Gou
from Foxconn, that is, who could argue that the iPhone 5 came at assembly price.
Recommended Stories