This luxurious iPad 2 has a T-Rex bone embedded in its body; costs $8 million
18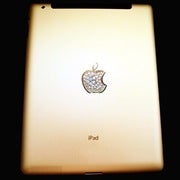 Which gadget has a golden, diamond-encrusted body, a frame made out of Ammolite mixed with pieces of a dinosaur bone and costs over $8 million to own? Why, it is the luxurious
iPad 2 Gold History Edition
, which none of us will ever get to see in person, let alone review.
This insanely expensive and overly blingy iPad 2 has been designed by
Stuart Hughes
, who has brought more than a few gold- and diamond-covered gadgets to the world. As the case is with most of his creations, the boring aluminum body of the device has been ditched and replaced with one made out of 24-carat gold covered with diamonds of various shapes and sizes. The tablet's front frame has been crafted out of Ammolite, which is pretty much the oldest rock that Mother Nature has to offer, and if that is not enough to justify the "History" in "History Edition", fractions of a 65-million years old thigh bone that once belonged to a T-Rex dinosaur have been embedded into the Ammolite frame.
Now, having all that bling covering this luxurious iPad 2 does take its toll on the tablet's weight, yet carrying an 8-pound slate around you is absolutely fine if you want to make the people around you aware of your social status. Only two of these tablets will be made so if you find its design to your liking, feel free to bring out your Centurion and grab one before they are gone.
source:
Stuart Hughes
via
MobileSyrup