Foxconn chief Terry Gou says people are animals, after all, and he has to deal with a million of them
27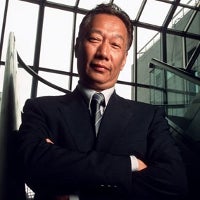 Apple, which
just put several of its suppliers on monitoring about working conditions
at their factories, is not going to be happy about this latest development.
The boisterous Foxconn CEO Terry Gou had the following comment to make at the Taipei Zoo's annual meeting: "
Hon Hai has a workforce of over one million worldwide, and as human beings are also animals, to manage one million animals gives me a headache
".
Granted, he was entertaining the Taipei Zoo president Chin on the stage at the moment, jokingly asking him after his lecture how does he manage his animals. Still, the remark didn't fly well, and WantChinaTimes, which reported the incident, noted that he could have chosen his words more carefully.
He quickly became a textbook example for "rampant capitalism", buying a $30 million castle in the Czech Republic, filling the tabloids with stories about sexual tape blackmails, or doing push-ups at his 2010 wedding to demonstrate his tip-top shape. All the while Foxconn working conditions were surrounded with controversy,
factory fires
,
trade secrets leaks
, and
several suicides
by workers there.
Foxconn's CEO started traveling to college campuses and talking with young people there, raising salaries and bonuses, and improving work conditions after the incidents, concluding that younger Chinese workers are no more willing to work as if in labor camps, and the days of China as only a cheap labor supplier are coming to an end.
The end conclusion seemingly was that if people with too various needs, dreams and aspirations to be managed effectively get in the way, you can always replace them with robots, which is exactly what he is doing. The CEO said last year that
Foxconn will be deploying about a million-strong robot army
to assemble gadgets within three years, with 2012 alone seeing 300 000 of them taking over the conveyor belts.
Terry Gou's personal fortune is said to be north of $6 billion, and we can't wait to see if his "animal" remark will make the late-night comedy shows round, as Foxconn got in the crosshairs of Jon Stewart the other day, which you can see in the video below.
source:
WantChinaTimes
via
PCMag