Wondering about how smooth gameplay will be on Android TV? This looks pretty smooth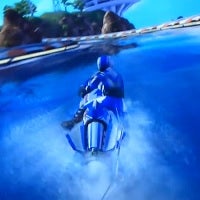 While at Google I/O, we played up Android TV and took you on a
quick walk through
of what it would have to offer, except gaming.
The reason was that the volume on the TV in the lounge was apparently stuck on "11" and so the staffers asked everyone to keep the noise down. Based on what we had seen up that point, we surmised that we had no reason to doubt the quality of playing games using Android TV.
We knew there would be cynics amongst our readership, and such cynicism is perfectly understandable, especially with a small set-top box with no vents, no processor fan, none of the hardware features that keep the established players up and running for hours' worth of gaming.
Thinking about that, we later went out on the convention floor to the developer exhibit and captured some action of a Googler playing RipTide on Android TV. The game is not of the caliber of say, Forza Motorsport 5, but it is not some 8-bit version of Pong either.
As you can see from what we grabbed in the video below, gameplay is quite impressive. We realize that one minute of action does not mean all will be cool running after an hour or two of gaming, but the expectation is there. With Android TV still being under development, and seeing this level of performance at this juncture, we suspect that buyers will find little to complain about once it is on the market.