Android TV hands-on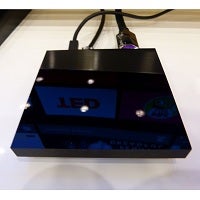 Google has not had the best of luck when it comes to TV, but its last effort, Chromecast was a roaring success. The $35 HDMI dongle found itself outselling just about everything else out there. It is an excellent and affordable way to bring extra content to a family's entertainment portfolio.
There are no "official" specifications for Android TV at this time, and we are certain they will change since Android TV is still in development and will not be available for sale until later this year.
Physically, Android TV is a small little box, less than half the size of a common household router, and even small when compared to other content and entertainment systems like Xbox One and Sony PlayStation. Getting into the user experience, it is fast and fluid. It follows on the strengths of Google Play when browsing for content, and it is easy to navigate through all the features and apps. The controller we used for the hands-on looks like a gaming controller, but like Android TV, it too may change as things develop.
When the final product does make it to market however, it will have a number of applications ready to deliver content beyond the Play store. Netflix, Songza, YouTube, TuneIn, and the rest of the usual suspects already have their apps ready for you to acquire the moment you take Android TV out of the box. For any one of the billion Android users on planet earth, diving into Android TV will be instantly familiar.
We did not get into any game play because the volume on the TV was being finicky and it was requested that we keep the volume down. We have no reason to doubt the quality of gameplay however.
There is no information about how Android TV will be priced, or when it will be available. However, given that there are no mechanical systems on board that entertainment boxes like the Xbox One or Sony PlayStation have to allow DVD or disc-based game loading, we expect Android TV's price point to be well below those systems.