Woman falls 60-feet off bridge while taking a selfie
33
We've seen people do strange and risky things all in the name of taking a great selfie. Do you remember the pair of unlucky gentlemen, both of whom had a goal
to take a selfie with a rattlesnake?
Almost exactly one month apart from each other,
both were bitten and almost lost their lives
. On Wednesday, another selfie gone wrong almost led to the death of someone way before her time.
A woman who has yet to be identified, fell 60-feet off the catwalk of the Foresthill Bridge in Auburn, Alabama. She landed on a trail that was underneath the 730-foot tall bridge. Medical personnel airlifted her to Sutter Roseville Medical Center. There is no word on her condition or on the injuries she sustained in the fall. The Sheriff's Office posted on its Facebook page that "This young lady is very lucky to be alive and the consequences could have been worse for her, her friends and her family."
The area where she was taking the selfie is restricted and those caught walking in that location are subject to arrest.The Placer County Sheriff's Office has had to deal with numerous trespassers on the catwalk. In February 2015, it became a popular area with 34 trespassers getting busted in a single day that month.
"I'd say over a normal year, we hand out a few citations for the same thing. One misstep and there is no surviving a 730-foot fall. (The daredevils) are not just out there walking -- they are getting braver. There's peer pressure, so when they are out there, they are doing stupid things. We really want this to stop before someone dies."- Dena Erwin, spokesperson, Placer County Sheriff's Office
We'd rather that our readers stay alive instead of taking chances and risking their lives for a selfie. Remember, boring selfies equals a longer life!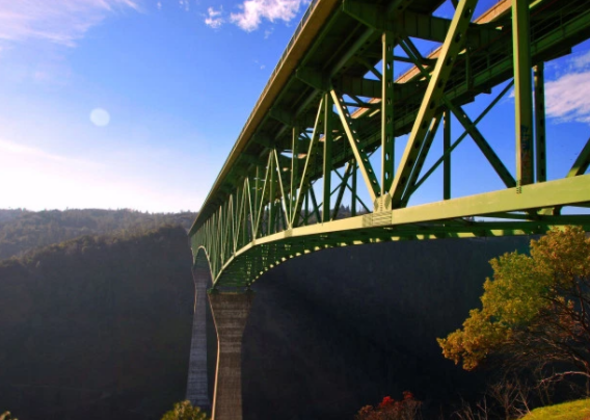 Foresthill Bridge where an unidentified woman fell 60-feet while trying to take a selfie
source:
KCRA
via
NYPost