Not again! Second man takes selfie with rattlesnake and ends up in the hospital
45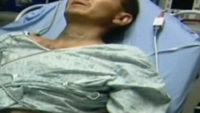 Last month, we told you about a man in San Diego who had a "pet" rattlesnake and decided it would be a great idea to take a selfie with the snake. Of course,
he got bit and ended up in the hospital incurring a rather hefty $153,161.25 bill
. We hoped that the story would be enough to deter anyone foolish enough to even consider trying this stunt, from taking the risk.
But 36-year old Alex Gomez apparently missed that story. On Monday, Gomez found a four-foot rattlesnake slithering around his family's ranch. He did what any 21st century male with a smartphone would do. He decided to pose for a selfie with it. That was a poor decision as Gomez was bit by the venomous snake. After his body started to swell up, a neighbor called 9-1-1 and Gomez was transported to the hospital. Despite receiving doses of anti-venom, there is a strong possibility that he will lose his hand.
So dear reader, please take this story as a warning. You do not want to risk your life over a photograph. Stick to inanimate objects. Take snapshots of your lunch. But when it comes to dangerous animals, do not attempt to capture them in a selfie. Call your local Animal Control and have them remove the threat.
source:
KCAL
via
NYPost