Without Sprint, T-Mobile will need 38K new cell sites to cover its torrid growth rate
8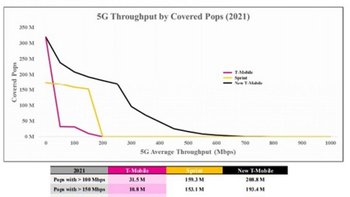 Whether T-Mobile and Sprint receive regulatory approval from the FCC and the FTC for their merger is still up in the air. But a new report indicates that if T-Mobile is not allowed to close on the transaction, it will need to spend a lot of money in order to build out its network to match the carrier's impressive growth rate. According to New Street Research, the nation's third largest carrier will need to add 38,000 cell sites and spend 20% more on network capital expenses.
New Street says that even without merging with Sprint, T-Mobile is seeing strong customer growth, especially in markets that the wireless provider hadn't targeted before. After releasing its second quarter numbers, T-Mobile raised its estimate of net new postpaid customers for all of 2018 to a range of 3 million-3.6 million from its earlier forecast of 2.6 million to 3.3 million. According to the researcher, this rapid growth could force T-Mobile to buy up some more spectrum and add more macro cell sites.
T-Mobile has already expanded its use of small cells and has signed new fiber backhaul pacts throughout the country. But New Street says that this will not be enough to cover all of the new subscribers that the carrier is adding. As a result, New Street sees T-Mobile purchasing additional spectrum from Sprint or Dish. Remember, this analysis is based on the idea that the merger with Sprint is not approved. Exactly a week ago, the FCC stopped an informal 180-day clock, stating that
the agency needs more time to review the deal
before it signs off on it.
Following that announcement, T-Mobile CTO Neville Ray met with the FCC and told the agency that if it is unable to merge with Sprint, it will be able to offer 100Mbps data speed to only 30 million customers by 2021. On the other hand, if the deal with Sprint is approved, T-Mobile would get its hands on Sprint's 2.5GHz spectrum and according to Ray, offer 100Mbps data speed to 208 million wireless users (see chart at the top of this article).
T-Mobile and Sprint have also wrapped their deal up in the American flag, saying that U.S. leadership in 5G depends on the FCC and FTC approving the merger.