Windows Phone users get new content in update to Angry Birds Go!
10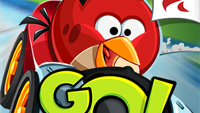 Angry Birds Go!
is a racing game that allows you to race as the Birds or as the Pigs. And it allows you to see the World of Angry Birds in 3D. That means you get to view the main characters from every angle. You can earn upgrades to your car, which starts as a soapbox. Through your performance, or with in-app purchases, you can find yourself behind the wheel of a fancy super car.
The game has received an update for Windows Phone users that takes it to version 1.8. New content can be found from commercial partners. And the updated Angry Birds Go! pays a tribute to the late Grand Prix driver Ayrton Senna. The driver was killed in an accident while leading the San Marino Grand Prix in 1994. In the game, Chuck turns out to be Senna. Each racer has his own special powers that can help lead the way to victory.
Angry Birds Go! weighs in at 98MB and is available for Windows Phone 8 and Windows Phone 8.1 models. You'll be competing on racetracks, off-course roads, stunt-roads and air courses. Unlike other games in the franchise, Angry Birds Go! is a little different because of its racing aspects. Why not get behind the wheel as your favorite character by clicking on the slideshow below.
source: AngryBirdsGo! (
WindowsPhone
) via
WMPoweruser