Windows Phone surpasses BlackBerry in the USA in Q1 2014, Android still king
80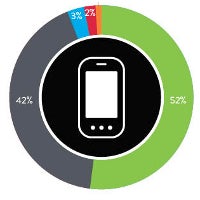 Microsoft's mobile platform, Windows Phone, has finally seen some increase in its market share in the USA during Q1 2014 – it has grown 1% and now holds... 3% of the market. Still, it appears that this leap was more than enough for it to overtake BlackBerry's own eponymous OS, which now runs on no more or less than 2% of all smartphones in the country. Interestingly,
BlackBerry OS had 3% of the same market, whereas Windows Phone held 2%
several months ago.
These interesting facts were revealed by Nielsen, a global research agency, which surveyed over 20,000 mobile subscribers in the USA on the matter.
Normally, one would expect that Nokia is solely responsible for Windows Phone's increased market share, and one would be wrong. Yes, the Finnish company was undoubtedly one of the main reasons for the slow, yet steady growth of Windows Phone's market share, but Samsung and HTC also contributed. The two manufacturers from the Far East are responsible for 0.7% of the platform's market share in the USA - HTC makes 0.4% of said devices, while Samsung accounts for 0.3% of US Windows Phone devices.
It comes to almost no surprise that Apple is still the dominant player and holds the lion's share of the smartphone market at home. Cupertino's smartphones have been chosen by 42.5% of the surveyed respondents, however, iOS is still losing the battle against Android – Google's operating system runs on the devices of 52% of all respondents.
If we turn our heads to Androidland, we will barely find anything surprising at all. Nielsen's report shows that more than half of all Android smartphones had the Samsung logo on their front – 28.7%. LG is far behind – with 7% of the market, the other South Korean maker gets the silver medal. Motorola is breathing down LG's neck with 6.8%, while HTC is responsible for 5.7% of all Android devices on the US market in Q1 2014.
Interestingly, the report also reveals that more than half of all mobile phone users aged 55+ are currently sporting a smartphone. Still, Nielsen does not reveal whether the elder population prefers iPhones or one of them Galaxies.