Nielsen says 64% of users in the U.S. own smartphones
7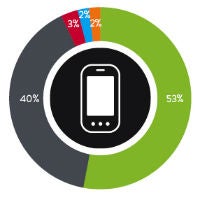 The feature phone is a dying breed. There's really no way around that fact. Hardware manufacturers are looking at ways to create lower-cost handsets so that smartphones can become the norm in emerging markets, because smartphones have gone beyond being the norm in wealthier countries like the U.S; smartphones are beginning to hit a saturation point.
The data shows that 80% of young adults (age 25 to 34) and 70% of teenagers own smartphones. If someone can make a device that can bring in older users (over 55), there is still market share to be had (which is probably why Samsung is introducing "easy mode").
Android is still the leader with 53% of the U.S. smartphone market, but Android has been taking an even higher percentage of recent sales at 61%. But, the U.S. is still really a two platform region with 95% of recent sales being either Android or iOS.