Windows Phone Store loses Chase app
45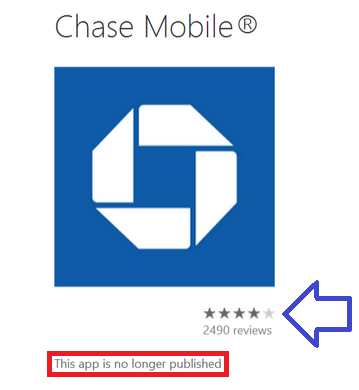 Chase pulls its app from Windows Phone Store
Looking for the Chase app to install on your Windows Phone? Did you look real hard? Well, the truth is that Chase has pulled its Windows Phone app and will no longer support it after March 22, 2015 for those who already have installed it on their handset. The reason why Chase made this move is not going to make Windows Phone fans happy. The company said that it is going to support platforms that its customers use, noting that it had signed up very few customers to its Windows Phone app.
This is actually not a surprise since Chase announced six days ago on its Windows Phone app that it would pulling out January 26th. It wasn't pulled because of customers' complaints; the app had a 4 star rating (out of 5) with more than 2000 reviews.
Chase customers with Windows Phone who feel put out by the bank's decision can lodge complaints with the company. If you find it hard getting in touch with bank employees, try sending them a tweet noting your displeasure.
"We are focusing our support on the products our customers use the most. Starting March 22, 2015, we will no longer support the Chase Mobile App for Windows devices, which few customers use. Those customers can still access chase.com through their mobile browser."-Chase statement
source:
winbeta.org
via
WMPoweruser