Windows 10 on phones: all the new features
66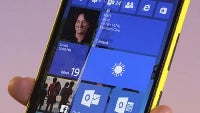 Windows 10 will be the official name of the next Microsoft operating system for smartphones, and it will come as a free upgrade for those who have a Windows Phone 8.1 device.
Windows Phone chief Joe Belfiore stood up on stage in Redmond today to present all the new features of Windows 10, and we've decided to give you a deeper look at those particular ones that will arrive on smartphones.
With no further ado, here are the most notable new Windows 10 features for phones.