Will you be devastated if the Note 5 doesn't have a microSD slot and removable battery?
96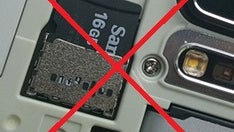 From the
leaked schematics the other day
, as well as various other tips and informed speculation, it seems that the
Galaxy Note 5
phablet will have an exterior resembling the Galaxy S6/S6 edge, but wrapping in a larger chassis, and accommodating the S Pen stylus. Samsung's new metal-and-glass design trendline, however, has no place for flexible features that used to be a staple for the Galaxy line - such as a removable battery, and a microSD card slot.
Judging from the alleged Note 5 schematics shown the other day, and adding recent rumors about the
looks and specs of the phablet and its S6 edge Plus sidekick
, it seems that there won't be a place for a memory card slot in the design anymore. That's not all the argumentation, though, as the new fast UFS 2.0 flash storage that Samsung slapped into the S6, uses a memory controller that is incompatible with the regular eMMC 5.0 standard that microSD cards use in other phones.
Thus, provided that the Note 5 uses UFS 2.0 as well, Samsung will either have to put two separate memory controllers in there, or simply eschew a microSD slot altogether, equipping the basic Note 5 version with at least 32 GB of storage to compensate. All in all, it seems that the era of removable batteries and expandable storage might be over for most flagships, with only LG left holding the fort this year. This is why we wanted to ask you whether the eventual sealed unibody of the Note 5, pretty as it might be, will make you pause longer before you pick it up, than if it had a removable battery and expandable memory, like all Notes so far. Take your pick, and give us your grief in the comments below.