Will my iPhone or iPad get iOS 9? Apple revealed the devices that will support the update!
29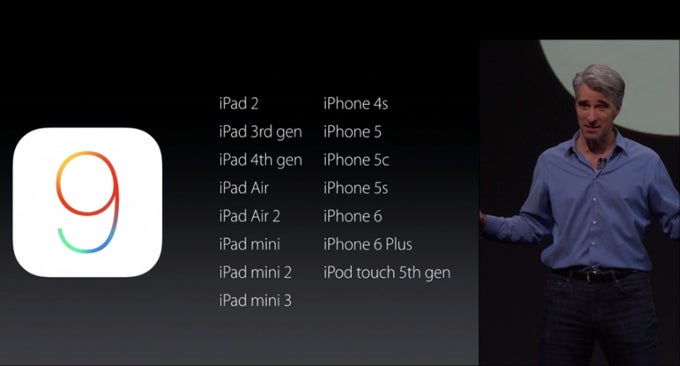 Well, folks, Apple's WWDC is just about done and we have just gotten a first glimpse at what new features iOS 9 will bring to the users. After talking about the new apps, the exciting multitasking functionality, and the impressive battery life enhancements, Apple took a second to tell us which devices will be able to run the new operating system.
Are you at the edge of your seat yet? Well, it was a simple sentence, really – "All of the devices that are supported by iOS 8". This means
iPad 2
to
iPad Air 2
,
iPad mini
to
iPad mini3
,
iPhone 4s
to
iPhone 6
, and
iPod touch 5th gen
.
We can't help but wonder whether
the rumors
of a "core" version of iOS for old, A5-powered devices are true. What the aforementioned reports said was that old devices, such as the iPad 2 and iPhone 4s, would run a slimmer version of iOS 9, which should lack some of the shiny modern features, but will run much better than how iOS 8 currently runs on the aforementioned machines. This would be a welcome change, as the A5-powered devices are definitely struggling with the latest available iOS 8.3.
Installint iOS 9 shouldn't be as much of an ordeal, too, as Apple promised that the update file will only be 1.3 GB in size, making it easier to squeeze in on devices with less internal memory.