Will Sprint and T-Mobile join forces to complete 4G network?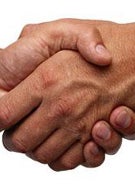 According to the WSJ, Sprint could be looking for a partner to help them finish building out their 4G network with Clearwire. The cost to finish the pipeline will run into the billions of dollars and the carrier, which owns 54% of Clearwire, has to make some big decisions. Sprint can decide to fund the balance of the 4G network itself, or it can seek money from a new partner.
The paper is reporting that Sprint's Board of Directors is debating about whether to invite rival carrier T-Mobile to become a partner in the project by investing in Clearwire. Such a move would make partners out of the nation's third and fourth largest carriers. Robert Dotson, T-Mobile's CEO, said earlier this year that he wanted to see what his options were regarding a 4G pipeline and even had discussions with Clearwire. No proposals are pending and some Sprint board members are strongly against the idea of bringing T-Mobile in as a partner.
Sprint has been the first off the blocks in the U.S. with the launch of two 4G enabled handsets, the EVO 4G made by HTC, and the Samsung produced Epic 4G. The latter device was launched Tuesday.
HTC EVO 4G Specifications
|
Review
Samsung Epic 4G Specifications
|
Review
source:
WSJ