Will Apple's A4 iPad 1GHz chip be used for the iPhone?
6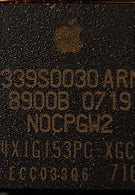 The Apple A4 1GHz processor that is powering up the iPad was the subject of some positive comments by those who were able to get a hands-on view of the tablet. Adjectives like "zippy", "fast" and "snappy" were mentioned in most reviews about the iPad and part of the reason for the speed was the Apple A4 which was produced in-house by the Cupertino based company. The 1GHz speed matches the speed of Qualcomm's Snapdragon which is currently the fastest processor used on cellphones like the Nexus One and the HTC HD2. Apple's A4 chip also provides 720p video playback and allows for 10 hours of battery life on an active day.
Since the Apple A4 was designed for mobile devices, and with the similarities between the iPad and the iPhone, it wouldn't be a stretch to imagine the 1GHz chip powering a faster generation of Apple's touchscreen phone. Nathan Brookwood, an analyst at
Insight
64 says, "There's really no reason why a chip with this kind of characteristic wouldn't make it in the iPhone." Apple could even underclock the A4 in a new generation of iPhone which would allow for greater battery life. Currently, the iPhone 3GS uses an Arm based system on a chip produced by Samsung clocked at 600MHz.
Apple iPhone 3GS Specifications
|
Review
source:
PCWorld