Why would it be cool if the iPad 3 has a 2048x1536 pixel screen
13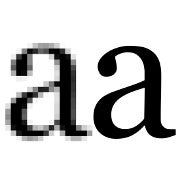 One of the most anticipated new features in the upcoming Apple iPad 3 is the higher-resolution screen. The most popular take on this is that the said screen will have a
pixel
count four times higher than the one on the iPad 1 and 2. This would actually make for a display resolution of 2048x1536 px - just enough to guarantee a pixel density of 264 ppi. Not enough for Retina-quality? Well, it depends. You'd need something above 300 ppi if you want to get the so-called Retina Display effect on your phone, but this is because people are normally holding their handsets at a distance of about 12 inches. With tablets, it's different, because people are holding those at a significantly larger distance, compared to a phone, due to the bigger physical size of the screen. So, basically, achieving the Retina Display effect with the expected 2048x1536 pixel display of the Apple iPad 3 is not out of the equation.
But that's not what's important to us. What we really care for is how the iPad 3 user would benefit from having such great resolution. Here are a few areas where we really think the iPad 3's higher-res screen will prove to be priceless...
Reading and web browsing
Reading e-books and browsing the web will probably get the biggest boost, since the high pixel density of the iPad 3 would mean that text will be displayed much more clearly, with no blurring or jagged edges on the letters. Reading will get better, because you'll be able to fit more text in a single page, without sacrificing clarity, while, on the other hand, the web will become much easier to read and better-looking, seeing that it's so rich in text. Of course, the same goes for in-app text, so app developers are going to benefit as well, but what's more important - it is us, the users, who are going to be enjoying better-looking apps.
Images and video
It's not only text that will start to look better. Pictures and video will also get beautified. On one hand, you'll be able to view larger, more detailed images, while on the other, enjoying 1080p video will be as easy as pie on the iPad 3. But of course, the benefit here is that not only will you be able to play 1080p - you'll actually be able to see every pixel in the video, without any information loss. Can't view a whole image in its actual size, because it's too big to fit inside the 1024x768-pixel frame of the iPad 1 and 2? No worries, this too should not be a problem, when/if the iPad 3 arrives with its 2048x1536 display.
New usage scenarios
Should the iPad 3 come with the above-mentioned higher-res display, this would mean that it'll be good enough to be used by professionals like pilots and doctors, for example. Although some airlines have already adopted the iPad in order to replace conventional flight bags, the use of the tablet is currently limited to a radius of 50 miles from the originating and destination airports. That's because the in-route flight maps are still too complex to be shown appropriately with the XGA (1024x768) resolution of the first and second iPads. With 2048x1536, however, this shouldn't be a problem. Another professional area where a hi-resolution iPad would make good use is medicine, where some facilities have already started using the iPad for medical imaging. Naturally, the higher-resolution display would allow doctors to see more details and thus get a better view of the whole situation.
Finally, we should note that having all of these benefits combined means that pretty much our whole experience with the iPad 3 will be much better. The screen is a key element in touch-driven devices like the tablet and the smartphone, so improving its quality would always have a profound impact on the user experience.
What do you think, guys and gals - will the iPad 3 have a higher-resolution screen?