Why Apple needs a phone with a 5 inch or larger screen
57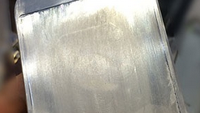 Here is some interesting information unearthed by research firm Canalys, and could explain why Apple is so gung-ho on increasing the size of the screen for the
Apple iPhone 6
. According to Canalys, the number of smartphones sporting a 5 inch screen or larger, saw a rather large 369% increase in shipments during the first quarter. While globally these models represented 34% of total shipments, they also made up 39% of all smartphones shipped in China during Q1, and 43% of all smartphones shipped in the Asia Pacific region from January through March.
47% of those smartphones with a screen 5 inches or larger, shipped in the first quarter with a price of $500 or more. Of the remaining 53% that had a screen size smaller than 5 inches, 87% were iPhone models. There obviously is a market left here for Apple to go after. Right now, rival Samsung is leading the way in smartphones with a 5 inch or larger glass. Sammy owned 44% of that market in the opening three months of the year. Looking at smartphones shipped in Q1 with a 5.5 inch screen or higher, Samsung had 53% of that market.
The latest leaked pictures and information we have, points to
a 4.7 inch Apple iPhone 6 to launch in August
, with a 5.5 inch model coming the following month. Samsung's current flagship model, the
Samsung Galaxy S5
, offers a 5.1 inch panel. There is talk that Sammy will release a
Samsung Galaxy S5 Prime
with a a bit larger 5.2 inch screen, offering 1440 x 2560 resolution.
We should point out that if 5 inches is the magic number, and the iPhone 6 is released with a 4.7 inch display, Apple will still not cross the 5 inch barrier until the rumored 5.5 inch version of the iPhone hits the market.
It seems so long ago when the Apple iPhone's 3.5 inch screen was considered large by industry standards. Two years after the launch of the OG
Apple iPhone
. HTC released the 4.3inch
HTC HD2
. The Windows Mobile powered phone was considered humungous at the time. The
Motorola DROID
and the
Nexus One
, two important phones in the history of Android, each carried a 3.7 inch display.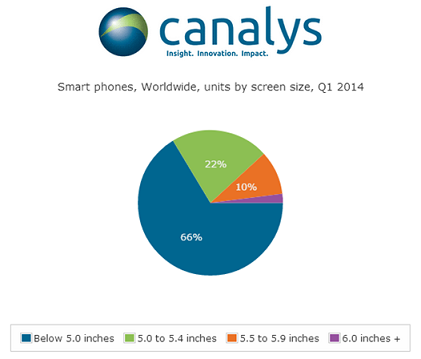 Smartphones with screens larger than 5 inches, made up 34% of the smartphones shipped in Q1
source:
Canalys
via
BGR