White Samsung Galaxy Note 9 goes official, here is what it looks like
19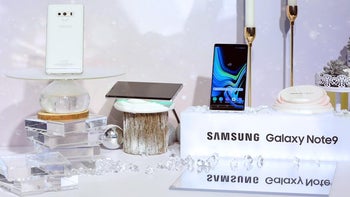 We reported last week
that Samsung may launch a white version of its current flagship, the
Galaxy Note 9
, on November 23. Perhaps it's pure coincidence, but Samsung actually introduced a new Galaxy Note 9 model on Black Friday, although that doesn't really matter since the phone is not yet available in the United States.
Samsung Galaxy Note 9 in white has been officially introduced in Taiwan earlier today, but the phone won't actually hit the shelves until next month. As far as the price goes, this one won't be cheap, as
Samsung Taiwan
announced the "First Snow" Galaxy Note 9 for around $1,000 outright.
While we do expect Samsung to bring this version of the Galaxy Note 9 to other countries, we're not sure if it will arrive in the U.S. in time for Christmas. For the time being, Taiwan is the only place where the white
Galaxy Note 9
will sell starting December, so we'll just have to wait and see what Samsung plans to do with it going forward.
And if you plan to wait for the White Samsung Galaxy Note 9 to arrive in the U.S. after all, you should know that hardware-wise it's similar to other versions (Black, Copper, Purple, Blue, and Silver).