What makes a great smartwatch?
17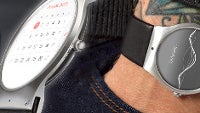 The wearable computing revolution is coming. We have been hearing this for years now, but with smartwatches like the Pebble and heads-up displays like Glass it finally seems like the revolution is starting to dawn. We have now heard it from multiple sources that
Google might be preparing its first smartwatch
to launch as early as this year, and Apple has allegedly assembled an all-star team to work on a
watch with fitness tracking functions
that might be ready in 2014. We really are on the verge of this wearables revolution.
However, we have also seen countless failed attempts. The Samsung Galaxy Gear was met with lukewarm reviews and disappointed many people waiting for a breakthrough smartwatch.
With all this in mind, we decided to brainstorm this smartwatch uprise with you and ask meditate upon what makes a great smartwatch. We are trying to imagine a device that would not just throw a phone operating system on a small screen attached to your wrist, we are trying to think of what will make it a whole new category.
So what is it? One-week battery life or an amazing screen? Or does it take a future technology like flexible screens to have it? And what would you use it for? Take a look at our requirements for the great smartwatch of the near future and chime in with yours in the comments right below.