"What happened in Vegas" video outed by RIM to recap its CES 2012 appearance
11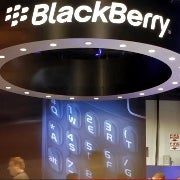 RIM compiled a short video to recap its CES 2012 appearance,
while Rome (err, the stock price) is burning
. The BlackBerry maker's shares actually rose yesterday on rampant speculation that it will be shopping itself to willing buyers, and has
hired Goldman Sachs to determine the fair pricing
.
These rumors have been going on for a while, but an analyst yesterday kept its HOLD rating on the stock, saying that, while t
he PlayBook OS 2.0 update we examined yesterday
has brought on an impressive number of new features, RIM has a lot of headwind to deal with in the mobile business.
Watch the one-minute video that RIM compiled below, and tell us what you think of the company's appearance at CES 2012, and
the new BlackBerry OS and PlayBook updates
.
via
BerryReview