RIM hires Goldman Sachs to advise it on a possible sale?
11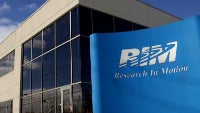 RIM
has reportedly
hired Goldman Sachs
to look into acquisition offers the company has been thrown recently. The investment bank allegedly has to look through the offers and
"It's up on Goldman,"
a trader told Fox Business.
RIM's shares grew 5% over this rumor. But we're still a long way from a deal and it's not clear which companies are bidding for it, if any.
"I wouldn't put too much on that,"
the trader added.
The company has most recently delayed its
BlackBerry 10
devices, and rumor is that it's also cancelled most of the planned devices to focus on less but hopefully better ones. RIM has also allegedly looked to license the BB10 operating systems, but was met with little interest from Samsung and HTC. An acquisition could wait until the first BB10 phones hit the market.
Additionally, the company's co-CEOs are rumored to be on their way out of the company, so there's definitely a lot going at RIM's headquarters at this time.