What did you get on Black Friday/Cyber Monday?
34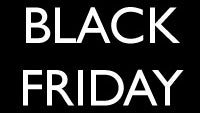 Black Friday and Cyber Monday
- the weekend a lot of gadget shoppers have been waiting this whole year has already passed. The craziness has also passed and your fellow shoppers are probably no longer kindly pepper spraying you in WalMart, trying to get the best deal as was the case this Black Friday. With all the hype slowly passing away, we already know that it was a blast for at least two companies - Apple seems to have broken its sales record and Amazon reported huge demand for its Kindle Fire. But the sales boost affected not just these two companies but the whole industry.
We know that some of you, our readers, lined up to get the best offers on the latest gizmos. Others probably got no sleep to only get the best gifts for their loved ones. In the worst case scenario - you've got some memories to share; in the best - a couple of gadgets you took out of the store like trophies, under the envious eye of the crowd.
Now, we'd love to hear what was the exact gadget you craved so much that made you wait in line for it? Do you have any pictures of the lines or in-store with the crowd busting the doors to enter? Don't hesitate to
share
- first and foremost, your newly acquired devices in the comments below and secondly your pictures with a short description of the where they were taken
via our tips page
.