Wearables like Glass are unstoppable, says Google X head of displays Mary Lou Jepsen
13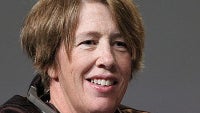 In more of a teaser rather than an unveiling, head of display group within the mysterious Google X innovation lab Mary Lou Jepsen, said that wearable computers like Glass are coming and are unstoppable. Jepsen, known for founding Pixel Qi, a display company that makes screens that are multiple time more power efficient and with hugely improved sunlight legibility, is now heading a secret project at Google X.
And while she apologetically said she could not talk about it (
"Sergey insists,"
she said referring to Google co-founder Sergey Brin's dedication to secrecy), Jepsen did say that engineers in her team are "maybe sleeping three hours a night to bring the technology forward."
The most interesting tid bit however might be her inside look of wearable computers like Google Glass.
"It's coming. I don't think it's stoppable,"
Jepsen said referring to the wearable computer revolution. Speaking of Glass that she wore around her neck, Jepsen said:
"you become addicted to the speed of it, and it lets you do more fast and easily."
Jepsen also focused on the importance of innovation in areas other than industrial design and user experience design that are getting a lot of the highlight. Still, substantial innovation in LCD displays and other core technologies, was what made laptops and later on tablets possible, according to Jepsen.
"I don't think any one of us has an excuse on why we can't get up and do something really big, really bold,"
she concluded on a motivational note.
A lot of teasers, right? We believe when there's smoke there should be fire, and in the case of Google Glass expectations are to see the glasses launch sometime in 2014.
source:
Technology Review