Wearables for kids? That is what LeapBand is all about
9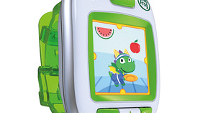 LeapFrog has introduced a wearable for kids, called LeapBand. The wristband offers a number of exercise-related features, keeping the young ones in shape. The device tells kid to '
pop like popcorn
' or '
wiggle like a worm
.' Children are also awarded points for completing various tasks. Earn enough points, and junior will be able to unlock virtual pets that they can play with.
LeapBand is going to cost $40 when it becomes available in August. The wristband connects to a website or an app from where parents can monitor usage. And because many of the kids using LeapBand will be younger than 13, LeapFrog must follow certain regulations when it comes to obtaining data from LeapBand users. That means that your kids won't have to reveal vital information to use the device.
LeapBand is the first wearable for children with an exercise-centric UI. A product called Flip is available from AT&T that can track a child's location, but doesn't offer them all of the exercises and games that LeapBand does. Made for those 4 to 7, LeapBand is durable enough to deal with the day-to-day grind of childhood.
source:
WSJ
via SlashGear