Wearable prototype goes a step beyond Google Glass
14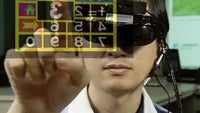 Glasswear is pretty cool, but the one thing many of us wonder deep down is when we will see a true air-touch interface, a real interactive virtual reality environment.
This goes beyond the patent that
Google acquired last year called, "Seeing with your hand."
Taiwan's Industrial Technology Research Institute (ITRI) has taken wearable gear to a level that shifts things from augmented reality to a real virtual reality.
The new gear is called i-Air Touch and it describes perfectly what it allows its wearer to do. Just reach out and touch the projected images. The images and interaction are managed through a pair of cameras that are mounted on top of the headset. The cameras track the hand movements and correlate their position relative to the projected images in front of the wearer. That is a great development compared to projects that involve having to wear a glove.
The i-Air Touch is a prototype now. Like all prototypes, the following builds will be more refined, look sleeker and will obviously have enhanced functionality. While Glasswear is about to hit the streets soon, make no bones about it, Google Glass is just the beginning.
sources:
EE Times
via
DVICE