Project Glass just the beginning of the VR experience as Google patents smart glove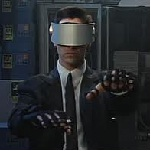 This probably does not come as much of a surprise when you think about it. From "Johnny Mnemonic" to "Minority Report," the virtual reality environment seems to need the ability to navigate and "see" with our hands.
There is a whole new batch of possibilities coming with this. How long do you think it will be before we see it at Google I/O?
sources:
Unwired View
,
US Patent and Trademark Office