Wayward Souls, a procedurally-generated action adventure, ventures to Android, finally
2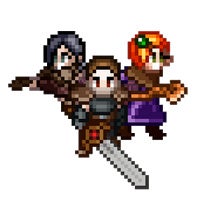 Just yesterday, we made a curated pick of some of the
best mobile games that have been released in the first half of 2014
. One of the quite curious and promising iOS games in it, Wayward Souls, an action-adventure dungeon crawler, just made its way to Google Play and is now available for Android devices. But what's so special about it?
Well, at the first sight, almost nothing – its graphical set, which resembles most retro-looking Japanese RPGs, is nothing that we haven't seen before, while the gameplay is nothing to write home about, too. What makes Wayward Souls noteworthy is the perfectly-balanced combination between simplicity and diversity, which creates a pretty high replay value and makes the game a must-try for fans of the genre.
The perfectly-balanced combination between simplicity and diversity is responsible for the high replay value
Wayward Souls is a fantasy role-playing, rogue-like game, which will transfer your character to some gloomy and dreary dungeons. You guessed it right, you won't be alone there, as the dungeons are brimming with life – of course, we are talking about unfriendly creatures, which will love to annihilate you. If you die, however, you'll be revived at the start of the dungeon and lose the progress you've made. Said dungeons are procedurally-generated, which means that you will hardly play two levels that are exactly the same. This welcome variety is surely one of the stronger aspects of the game, but it's not the strongest one, mind you.
As a whole, the developer of Wayward Souls has succeeded to make a silk purse of a sow's ear – that said, we wouldn't get surprised if this dungeon crawler makes its way to another best games list. If procedurally-generated games float your boat and you are an avid fan of dungeon crawling games, then Wayward Souls might easily become one of your favorite mobile games.
At the moment, the game retails at $5.99 on iOS, but its Android version is treated to a launch sale and could be snatched for as little as $4.99. The developers say that they will increase the price by a buck with each of the upcoming updates (and reportedly, several ones are in the works), so grab it while its price is still that low!
Oh, and did we say that it comes with zero in-app purchases?
Download: Wayward Souls (
Android
|
iOS
)
via:
Pocket Gamer