Watch as an Apple iPhone shows the "Blue Screen of Death"
69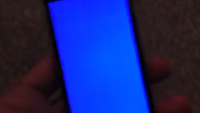 A published report on Friday cites a number of Apple themed forums for the disturbing, but not fatal situation that has the
Apple iPhone 5s
showing the "Blue Screen of Death". In this situation, the user's iPhone 5s screen turns completely blue and then reboots. The problem appears limited to the new full-featured iPhone model and is largely centered around Apple's own iWorks application which comes free on all new iOS devices.

Tweet reports Blue Screen of Death on the Apple iPhone 5s
In addition, videos taken by Apple iPhone 5s users seem to indicate that multitasking between apps also brings on the problem which also happens randomly. The Apple iPhone community has found a workaround for those being affected by iWorks. If the latter app is causing your iPhone 5s to reboot, disable iCloud syncing for Apple's Pages, Keynote, and Numbers apps and you should have some relief.
Earlier this month, we told you that
iOS 7.0.3 had been seeded to employees and partners
, so it might be too late to expect a fix for this problem in the next iOS build. Also, some of our readers have been sending us pictures of
missing icons
and status bars on their iOS 7 powered iPhone. In those cases, a simple reboot seemed to solve the issue.
If your Apple iPhone has been turning blue lately, you can let us know in the box below. Just because your iPhone 5s is turning blue,
you
don't have to be blue. The bug isn't turning the phone into a paperweight and we expect that the gang in Cupertino will come up with an update to take care of the latest iOS 7 problems. After all, as we told you earlier, apps on the Apple iPhone 5s
are crashing twice as often
as on other iPhone models.
source:
Elendil
,
TheVerge
via
AppleInsider
,
AppleSupport