Wall Street analysts saw strong demand for the Apple iPhone 6 and Apple iPhone 6 Plus
27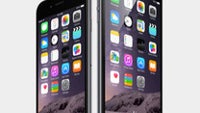 Sometime in the next few hours, we should get some estimate of how many new Apple iPhones were sold over the launch weekend. Last year,
Apple sold 9 million units
of the
Apple iPhone 5s
and
Apple iPhone 5c
, up
80% from the 5 million Apple iPhone 5 handsets that were rung up
during that phone's launch weekend. But according to one analyst, this figure is "
meaningless
".
Ben Reitzes, who plies his trade at Barclay's. says that while Apple had stronger sales than expected for the opening weekend, people should not look too deeply into what the numbers might mean. According to the analyst, the figure is determined by how much supply Apple can bring to the market. He figures that demand will remain heavy and an opening weekend sales figure of 10 million or more would be a positive surprise.
Piper Jaffrey's Gene Munster, no stranger to PhoneArena readers, says that sales of both new phones are off to a good start. He says that the line at the Fifth Avenue Apple Store was up 33% from last year, and that in the Midwest, lines were up 39% Still, Munster is looking for weekend sales of just 6.55 million units. But he adds that inventory sell-in could make the difference. Last year, channel filling totaled 3.5 million units.
Maynard Um of Wells Fargo had some interesting figures. He found 67% of buyers interested in the
Apple iPhone 6 Plus
versus 33% for the
Apple iPhone 6
. 33% planned to buy the 128GB model of whichever iPhone they bought. That was up from the 22% and 17% over the last two years, who planned on purchasing the most native storage available. Perhaps a stat left over from the days when it was an AT&T exclusive, 39% of those looking to buy the iPhone are AT&T customers. 16% use Verizon, 10% use T-Mobile and 4% are on Sprint. The remainder plan on buying an unlocked model, or use an international carrier.
Last year, Apple was able to sell the Apple iPhone 5s and Apple iPhone 5c in China on launch weekend. This year, a delay in getting certification has resulted to
the Chinese relying on smuggled black market models to meet demand
. While that could put a crimp in official opening weekends sales, as suggested by the analysts, the strong demand for the two new models could lead to a sales figure higher than expected. Stay tuned!
source:
Barron's