Enterprising minds smuggle iPhone 6 units to sell in China
9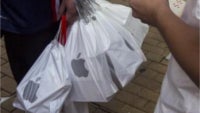 As we've heard a few times already – Apple is having trouble with bringing its newest smartphone units to markets in China. The exact cause of the delays has
not been officially stated
, though rumors point towards certification hiccups. China was
supposed to be one of the countries to receive the iPhone 6 today
, according to data that was on the Apple website, however, it quickly and mysteriously disappeared from the list in an overnight edit.
Resourceful minds can always sniff out profit, though. Reuters reports of numerous people finding different ways to smuggle iPhones from Japan, Australia, and Singapore to sell them at an insane price, no doubt. One such individual is Justin Leung, a financial planner from Hong Kong, who sent money to friends of his in Japan and gave them the task to obtain 35 iPhone 6 units, though, unfortunately for Justin, they only managed to get a hold of 25.
Chinese buyers are also in Tokyo, looking to obtain as many smartphones as they can. Reuters did not name them, though.
In Singapore, young people can actually make a fast a buck on lining up for an iPhone. Clarence Chen, 18, confirmed that he and at least a dozen of his friends will make a profit of around $150 each for leaving the Apple store with an iPhone 6 in hand and passing it over to a dealer; though, he refused to name his "boss". Another chinese man can be found in the queue here, who says he's planning to buy 2 phones and resell them for a $300 profit.
We can only shudder at the thought of how much these smuggled units are going to end up costing once they reach their final destination. After all, as we know, the
iPhone is not exactly cheap in China
. Adding all the expenses it's going to cost for smugglers to get it in, and the fact that it's going to be a rare commodity for the time being, means that it's probably going to cost a little more than an arm and a leg.