Wal Mart shoppers, prepare for the Palm Pre in the electronics aisle?
7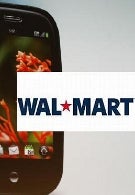 The Wall Street Journal is reporting that Wal Mart executives are claiming that the discount retailer will soon be carrying the yet to be launched Palm Pre in its electronics department. Previously, we have
reported
that Best Buy was going to get a limited supply of the smartphones to sell at its stores, but the word "exclusive" was never used in those reports.
Sprint is thought to have an exclusive deal
to be the lone carrier for the Pre in the U.S. from launch until the end of the year. No availability date or pricing was mentioned.
With Circuit City no longer in business, Wal Mart would like to grab the business that would have gone to the now bankrupt electronics retailer. For the world's largest grossing retail chain, that means improving the quality of the electronics that it offers. Brand names like Sony and Samsung have been added to inventory and earlier this year the
Apple iPhone 3G was added
to the slim selection of cellphones that is offered by the discounter. Being able to offer the Palm Pre could be the beginning of an effort by Wal Mart to become a legitimate destination for shoppers to find "Hot" cellphone models like Palm's much awaited handset.
Palm Pre Preliminary Specifications
|
Hands-on
source:
WSJ