Walmart goes official with iPhone 3G launch and puts speculations to rest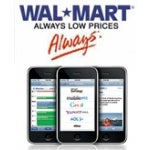 The iPhone 3G has been creating countless ripples one way or the other and the most recent one is that Wal-Mart is joining the likes of AT&T and Best Buy Mobile in offering the game changing 3G phone from the 28th of December 2008; laying to rest various rumors of a 4GB iPhone or the fact if the retail giant was to even sell the phone at all.
As expected, the 8GB iPhone 3G will be available for $197 and the 16GB blackor white version will be available for $297, both with a new 2 yearservice agreement from AT&T, or with an upgrade.
GarySeverson, Senior VP of Entertainment for Wal-Mart, said "We aredelighted to bring customers this ground-breaking mobile technology".
source:
Wal-Mart