WSJ infographic of the Lumia 900 and iPhone 4S costs and margins shows how hard it is to be like Apple or Samsung
22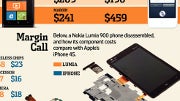 We know that the
Nokia Lumia 900 costs about $209
to assemble in components, while right now the
iPhone 4S
costs about $190 or even less. We also know that one handset costs $450 without a carrier subsidy, and the other is $200 more. This is not even counting the marketing and R&D behind the handsets, which is huge in the case of the Lumia 900, being the gateway phone for Nokia to get its foot back in the door of the US market.
If we count those, Nokia is earning even less from the
Lumia 900
than the WSJ infographic comparing the cost of assembly for it and the iPhone 4S, whereas iPhone's SGA and R&D expenses are a small fraction of its price.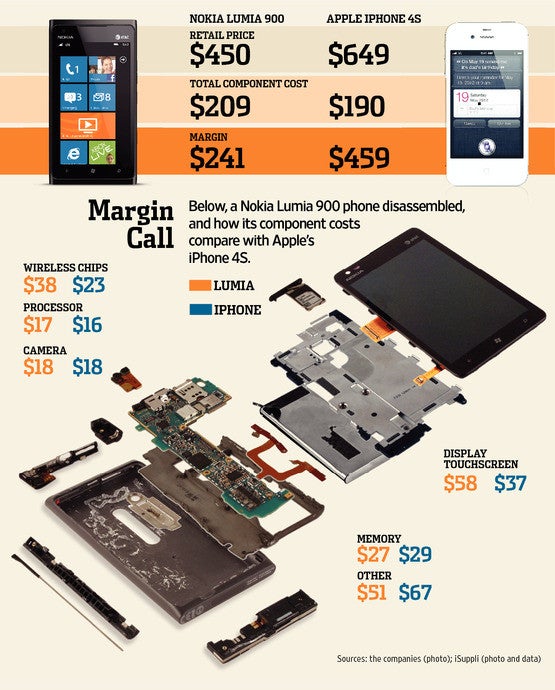 The numbers show very clearly how hard it is for other manufacturers to be on an even playing field with Apple and Samsung. Apple - because its state of the art supply chain has been perfected over the years, and its bargaining power for component prices is unmatched, while Samsung is just capable of making most of it in-house.
Granted, the iPhone 4S is just a quarter or so away from being updated, and that's when a piece of electronics comes cheapest for the maker, but it still sells for at least $650. When the next iPhone lands redesigned and with an LTE radio it will probably cost a bit more in components, and by that time Nokia's handset margins might have gotten even thinner.
Yet the Lumia 900 and the other Nokia Windows Phones command much higher premiums than the Symbian lineup, so Nokia has every incentive to keep pushing the envelope there.