WP7 leads the way in generating advertising dollars for developers
4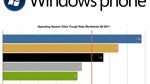 Microsoft's Windows Phone platform may not be able to offer developers the
large audience that iOS and Android
can, but according to a recent study by Smaato they do have something else to offer: A high click-through rate (CTR) on in-app advertisements.
With WP7's current market share of ~3%, the different isn't really that important – Android's 15x market share vastly outweighs the difference in CTR. But if WP7 can maintain their high CTR as they gain market share, it will make a progressively stronger case to developers to consider writing apps for the platform.
It's fair to ask why you, the end user, should care about click-through rates on your smartphone of choice, but remember that ad-supported apps are free because a developer can make money from those ads. If those ads don't perform well, the result is less free apps and more paid apps. So in a real way the amount that developers can make on a platform is a leading indicator of where vibrant development will happen in the future.
Microsoft still has to solve that pesky market share problem. But if they can, it looks like they can make a convincing case for developers to explore the Windows Phone ecosystem, and that would benefit consumers that want to use WP7 phones.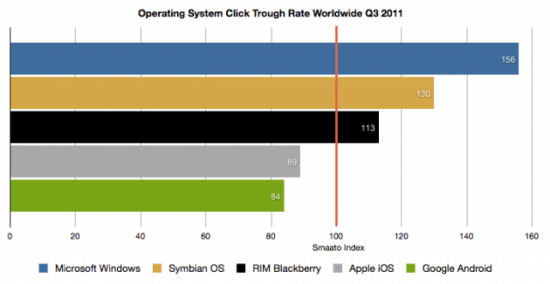 source:
Smaato
via
wpcentral