WP7 developers report payment/analytics problems
3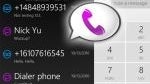 There's bad news for
Windows Phone 7
developers and owners alike. According to multiple reports, Microsoft
hasn't paid developers
for their app sales. Also,
broken analytics
are preventing developers from tracking how many times their app has been downloaded.
So why do we care about
developers
getting paid, or tracking their app sales? Because if they don't get paid in a timely manner, and have no way to judge their progress, developers will opt to write for another operating system. That means customers will be left without new apps to enjoy, and the OS as a whole will flop.
Justin Yu, the developer behind GoVoice (a Google Voice client), wrote in his blog about a number of issues with Microsoft. He first complained that
Microsoft
has yet to pay developers for their app sales. Also, broken analytics might prevent him from adding push notifications to GoVoice. Because he has no idea how many have been downloaded, he can't know if adding push notification support would be worth the server expense.
Developer Justin James has expressed similar concerns. James said that Microsoft won't send their developers' first paychecks until February, 2011. This reluctance to pay developers could mean an early end to the Windows Phone 7 OS. If developers get wind that Microsoft is holding out on them, they may stop development. Without a decent
Marketplace
, the OS will quickly lose the attention of consumers.
source:
TheBoyGeniusReport
Recommended Stories