WHERE application helps track sales of Motorola DROID
This article contains unofficial information.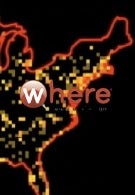 WHERE is a cool app that will help you locate places like the gas station with the lowest cost of fuel. Turns out it will also help figure out how many Motorola DROIDS are leaving Verizon's stock and in which states they are being sold. When WHERE is downloaded from the Android Market, uLocate-the company behind WHERE-can figure out the model of the phone and where it is geographically located. With 11,000 new DROIDS downloading WHERE, that is a healthy 10% penetration of the roughly 100,000 units
estimated
to have been sold on the handset's debut weekend. With the number of DROID installed WHERE apps expected to hit 25,000 by Saturday and with a typical 10% download rate on new Android phones, that would compute out to 250,000 DROIDS sold since November 6th and 150,000 sold since last Monday alone. The Big Apple is where 12% of new DROID owners reside with 6% on the West Coast in LA and 5% in the Nation's capitol. If these figures are true, it looks like word of mouth is leading to more units being sold as time goes on rather than seeing one blow out launch and then watching sales drop off big time. If the latter sounds to you like the sales pattern of the Palm Pre, we wouldn't argue with you.
Motorola DROID Specifications
|
Review
source:
WHERE
via
BGR