Vince Vaughn and Owen Wilson get gigs at Google in new trailer for The Internship
4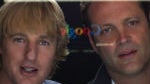 Apple isn't the only tech company that will be in theaters soon enough. As we let you know a while back,
Vince Vaughn and Owen Wilson
are starring in a new movie called
The Internship
where the two men try to start new careers by getting internships at Google. The movie will be rated R, so we'll be getting the full Vaughn/Wilson comedy experience.
Google allowed the film crew to shoot on the Google campus, but a lot of the movie was also shot on the Georgia Tech campus. Google has also been helping out with the promotion of the film. Earlier today, Conan O'Brien hosted a Google+ Hangout with the two actors to promote the movie.
Now, there's a trailer for the film. It's looking pretty good so far, but of course trailers can make anything look good. Still, we have faith in Vaughn and Wilson.
The Internship
is due to open June 7th.