Video suggests the ultimate ad: 10 000 iPhones falling like dominoes
24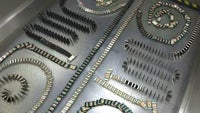 The idea of arranging 10 000 smartphones like dominoes and watching them fall alone is weird and enticing at the same time, and computer animation wizards from Aatma Studio thought it'd be a brilliant way to promote a future NFC-enabled iPhone. Problem was they were short on a few thousand iPhones, so they decided to use computer graphics to simulate an iPhone domino.
The end result is a shockingly realistic video that we doubted was real by the very end.
"Except for the first iPhone that is set off, every other phone you see is computer generated,"
Aatma chief executive Pramod Modi Shantharam said.
"We modeled, animated and rendered the CG phone where the footage was first motion-tracked and the CG phone was composited over it."

The whole idea was to present a way to advertize an iPhone in the future and it definitely worked on us.
"The end shot is a representation at scale but imagine bringing together four smartphones screens together to view content on an expanded real estate,"
he added.
"A potential use case could be a family of four connecting their phones or tablets to watch a movie together."

source:
AatmaStudio